"what I don't see can't hurt me: the aesthetics of resistance"
"what I don't see can't hurt me: the aesthetics of resistance"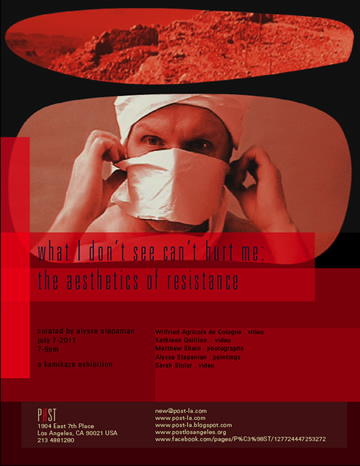 The power of art to effect social change has been debated over the years. As we proceed further into the 21st Century, a new level of comfort seems to have settled with widespread acceptance and understanding of once esoteric, conceptual and formally-driven work. Emboldened by this, artists have chosen to freely cross boundaries of genre, style and medium, using whatever is necessary to communicate their message. The five artists being presented here are driven by their desire to transform human consciousness. The work ranges from the abstract and conceptual to figurative narration. The do-it-yourself format of this one night Kamikaze exhibit, instigated by HK Zamani, seems appropriate for the nature of this show, in which artists take on active social roles.

In his performative quasi-documentary experimental video, One Day On Mars, shot during his trip to Israel and Palestine, Wilfried Agricola de Cologne juxtaposes disturbing clips of soldier and civilian clashes against painful images of captive birds used for entertainment. The legs of these birds are chained to a board, in the middle of a maze of protruding nails. Periodically, we see Agricola de Cologne himself wrapping his own head and nude figure with bandages, as if to nurse the wounds that witnessing these scenes have scratched into his being.

Kathleen Quillian's animation video, Wasteland, reveals the journey of our diseased food and the unconscionable and reckless abuse that pervades the food industry. Using simple yet meticulously thought out images in a linear, graphically descriptive narrative, Quillian attempts to convince the viewer to consider change.

In the dream-like animation video, Farm, Sarah Stolar accesses and stimulates the emotions and memories of the viewer. She depicts a farmhouse amidst a bucolic farm as seen through the metal bars of a barn, where lost and forgotten animals once lived.

Matthew Shain's conceptual approach to photography aims at the psychological dynamics that erupt when culture and nature interact. Images from hunting magazines are re-contextualized. A white dog is posed against a white background as if in a high fashion magazine - nature is reduced to the aesthetics of culture. In some ways the "eye" in Shain's Lazy Eye (Kirk) may remind one of Mona Lisa's enigmatic smile. Society and pop culture routinely adopt challenging iconic artworks, regurgitating them in the form of kitsch. In this rush for appropriation, meaning is ignored, overlooked and lost. Shain uses his subjects as signs that entice the viewer into investigating multiple layers of meaning.

In my recent paintings, I make use of formal and abstract aesthetics to allude to the painful realities of factory farming. Beneath the visual intensity of these works, lies the darkness that inspired their creation. It is a subject most people would rather ignore but cannot easily dismiss.

Awareness of the appalling conditions we have created for both domesticated and wild animals in our "civilized" world is growing at an accelerated pace. Each artist presented in this show makes direct or indirect references to the mistreatment of animals living in captivity. There is a recognition that our silence reaffirms the status quo, and these artists understand the necessity of representing the plight of the wronged and underrepresented. Turning a blind eye to evil is not an option.
by Alysse Stepanian
http://alyssestepanian.com
Project site: http://alyssestepanian.com/POST_7_7_11.html

Exhibition catalogue download link: http://alyssestepanian.com/POST_7_7_11_catalog.pdf (820 KB)

a kamikaze, one night exhibition
curated by Alysse Stepanian

Thursday, July 7, 2011: 7pm - 9pm

- exhibition and reception with vegan treats!
- free and open to everyone
- lots of free parking on a safe and private street

PARTICIPATING ARTISTS
Wilfried Agricola de Cologne . video
Kathleen Quillian . video
Matthew Shain . photographs
Alysse Stepanian . paintings
Sarah Stolar . video

PØST
1904 East 7th Place
Los Angeles, CA 90021 USA
213 4881280

new@post-la.com
http://www.post-la.com
http://www.post-la.blogspot.com
http://www.postlosangeles.org
http://www.facebook.com/pages/P%C3%98ST/127724447253272