The Fierce Independence of Maimouna Youssef
The Fierce Independence of Maimouna Youssef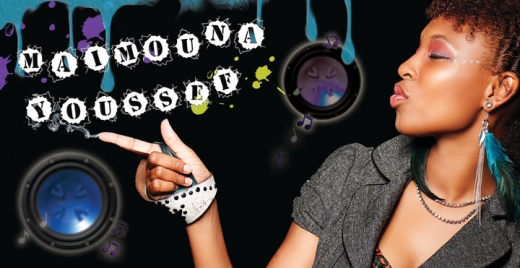 Creative control is a sticky subject. Just ask
Maimouna Youssef.
Word is that Maimouna--or "Mumu Fresh" as folks know her--has come quite close to some major label deals. In a story that has by now become so commonplace it's almost cliche, none would give her the kind of creative control she desired, and so she walked. Thank god she did too.
"I think when people are born with artistic minds they do have a responsibility to help their society dream bigger than the reality they're seeing at the time... We're supposed to bend the mold, not fit into anyone's form, because once we do that, then our existence becomes dull and mundane, which I believe is where we find ourselves now."
Since turning down the money and fame, Youssef has become the most accomplished artist you've never heard of. She's shared the stage with Big Daddy Kane, Angelique Kidjo, Mos Def, Talib Kweli, Wilco and Jill Scott. She's collaborated with Common, dead prez and Zap Mama. She appeared on the Roots' 2007 joint "Don't Feel Right" and earned a Grammy nod for it. Despite all this, she has yet to cut her first solo full-length.
That's going to change in the fall; along with the indie-released debut LP she'll be hitting the road. Judging from
Black Magic Woman
, released this past spring, neither are to be missed. Calling
Black Magic Woman
an EP isn't exactly fair--Maimouna calls it "an introduction to the movement and the music." Almost half of its 30-minute run-time is taken up by live performances and conversations with Youssef herself. Still, the way in which the music and words mesh is seamless--be they spoken, rapped or sung. Plainly put, Mumu is in touch with her voice, and knows how to use it.
Mumu's beats--loosely described as a collision of Golden Age production, old-school soul, singer-songwriter intimacy and gutbucket blues--are just as much an organic part of that voice. Growing up half Choctaw, half African-American in Baltimore, Youssef knows, in her own words, "a little something about the blues." Or, as she spits in "You Ain't Hard":
"...of being born into a mighty broken race that's ill
Then here comes the pill
Radio slips it in your drink to sweeten the deal
Before they go for the kill
Amphetamines to the brain
Just to numb the pain
Of being born into the ghetto, this crack and rap game!"
Recounting this kind of reality--indeed, one that's been deftly portrayed ever since the blues first gestated--is a poignant move in "post-racial" America. It's hard to hear these words without thinking instantly of the near-historic high in Black poverty nationally, or the current administration's frustrating insistence that it can't do anything particular to solve the crisis. Listening closely during the interview portion of the EP's title track, you can clearly hear Youssef singing a rendition of Gil Scott-Heron's "Winter in America" that she had previously recorded with her mother and grandmother. It's subtle parallel that resonates all the more for how infrequently we hear it acknowledged.
That being said, Maimouna Youssef's work can hardly be called a downer. Her songs have a feeling of unstoppable determination, that even through the myriad hardships there's an inextinguishable light worth struggling toward. The EP's high point easily goes to "Free as A Bird," an irresistible piece of uplift that never slips into saccharine whitewash.
This feel runs one way or another through all her work, even the sparse, free-jazz spoken word of "Why You Ain't Signed?" recorded last winter at DC's Gr8 Space Studio Gallery. By the end we know the straightforward answer: honesty, originality, integrity.
It's all this that makes Maimouna Youssef so worth watching out for; her sense of irreconcilable artistry, her unflinching willingness to tell us the truth in a way that is utterly undeniable. It's an ability that knows where it's been and where it's headed, and by its nature refuses the permission of label heads or great leaders. The voice that Youssef knows how to use so well is one that simply states the adage as old as music itself: "I was, I am, I always will be."
Alexander Billet is a music journalist and activist in Chicago and runs the website
Rebel Frequencies.
He is a columnist for SOCIARTS and has also appeared in Z Magazine, SocialistWorker.org, New Politics and TheNation.com. He can be reached at rebelfrequencies@gmail.com