Mohsen Namjoo and the Orange Curtain
Mohsen Namjoo and the Orange Curtain
On April 15 controversial singer and storyteller, Mohsen Namjoo, performed for the first time at the Irvine Barclay Theater, in Orange County. A prelude to the concert was a talk and question and answer session with Namjoo, that took place the previous evening. The discussion centered around poetry, song, and the role of singers in Iranian music along with Namjoo's own approach, craft, and style. The relatively large room that the talk took place in was to capacity and the audience had no shortage of questions that brought about answers from Namjoo, giving a glimpse into his layered world of thought. The following night, the night of the performance, was a beast of its own. Usually artists, (in this case I'm speaking specifically about Iranian alternative artists), seem to skip Orange County, opting to perform in Los Angeles and San Diego. Namjoo new to the town, which is not by any means recognized as the hub of culture, gave a concert that consisted solely of his wildly popular but already old hit songs. Some were more traditional, such as, ey sareban, and some fell under the umbrella of his progressive songs such as, ro sar beneh be balin. On the entire set list only one song was performed that hadn't been heard before at his previous live performances. Namjoo requested that the audience refrain from recording the song on their cell phones since it was being recorded professionally for future release, unfortunately few abided.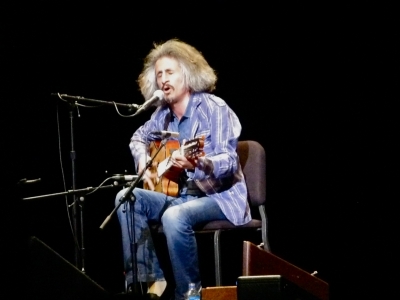 The previous day while Namjoo began to talk on the subject of copyright and artists in the age of illegal downloads, he mentioned that Arash Sobhani (Kiosk front man) had shown him a video clip from a David Gilmour concert. And in the clip David Gilmour announced, "This is a new one so if you are bootlegging, start your machines now." He lamented on the fact that David Gilmour comes from a bygone era in which free downloads and file sharing didn't exist; so, yes, he can announce take out your cameras and record my new song for free. Explaining that despite his celebrity status he has to beg people to stop illegally recording and sharing his music.
Like the topic of the Internet and free music downloads the topic of, degradation of culture amongst Iranian audience members, is another all-encompassing matter that should not be ignored. It was amazing to hear people force a 6/8 snap to Namjoo's politically charged song Shaghayegh Normandy (Poppies of Normandy). Normally one would assume that an audience member at a Mohsen Namjoo concert would differ from an audience member at Cabaret Tehran, it wasn't so. Repeatedly shouting out requests, clapping and snapping to music and lyrics that clearly have no traces of Iranian dance fever, or for that matter aim in any way to be even remotely festive, an inebriated woman sitting center orchestra emoting every quixotic nuance that possibly exists (cause for the house manager to ask her to keep it down), were all part of the hodgepodge that had come to see Mohsen Namjoo.
Nonetheless, "Namjoo: Unplugged" as a pastiche of nostalgic favorites was a great success. The addition of Ali Bazyar on percussions, mostly on the cajón and koozeh, did little to add to the music. What it did do was disrupt the almost liturgical state of Namjoo's musically stark and poetically profound solo singing.
It is customary that with the release of a new album a tour follows. It was curious then why nothing was performed from Namjoo's latest album, "Useless Kisses," released this February. At the previous days talk Namjoo admitted that most people come to concerts expecting certain songs, songs different from those that the artists wants to perform at the given concert. While this may be true to an extent, Namjoo's popularity lies in part on an authenticity that stems from his: I don't care if your not impressed by the fact that I scream at the top of my lungs or sing about a dog's bark, attitude. It would be fair to say that even a few morsels from his new album would have been expected, whether the majority had paid for that or not. A missed opportunity for this lofty performer, perhaps. But for those who missed Namjoo performing in Orange County it was a missed opportunity, for certain.
Yassmin Manauchehri is a music journalist living in Southern California.
Photo Courtesy of SOCIARTS Productions.