"Thirteen/Eight" Mohsen Namjoo & Ensemble Live in Berkeley and Los Angeles
"Thirteen/Eight" Mohsen Namjoo & Ensemble Live in Berkeley and Los Angeles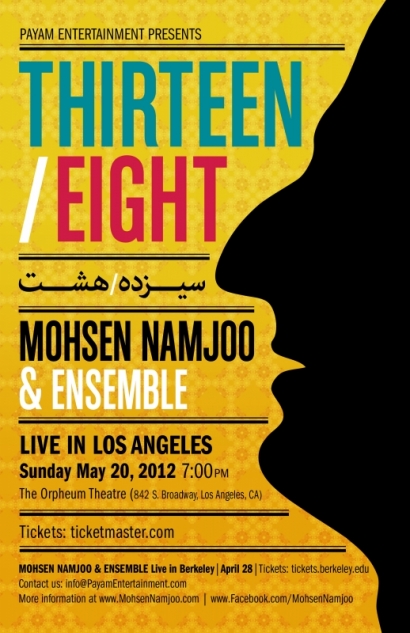 THIRTEEN/EIGHT
"Thirteen/Eight" is a compilation of six pieces by Mohsen Namjoo developed in the United States during the past year. The performance has been prepared in collaboration with California-based musicians James Riotto (Bass), Robert Shelton (Keyboard), Ezra Lipp (Drums) and Greg Ellis (Percussion). Payam Entertainment is to produce a series of live performances for 2012 and the inaugural performance on Saturday April 28 at 7:30 pm at the Wheeler Hall, UC Berkeley will be recorded in preparation for a double-album release with the same title. "Thirteen/Eight" will also be presented in Los Angeles on Sunday May 20 at 7:00 pm at the Orpheum Theatre 842 S. Broadway, Los Angeles, CA.

"Among Iranian musicians, irregular rhythms are referred to as 'limping rhythms'. Mainly characterized by structural imbalance, the 13/8 time signature is among the most difficult of the limping rhythms in the music of the region", says Mohsen Namjoo. "In the limping form, there is always a beat missing, or a beat extra. The limping style does not possess the symmetric structure of the dance music which elicits so much pleasure in dancers at wedding parties or in certain kinds of nightclubs". He adds "for me, this lack of balance or limping always symbolizes the constant instability of modern day life; a lack of confidence in there, being solid ground beneath our feet when we step out in our daily lives. The limping structure symbolizes falling out of step with the rhythm of everyday living, and the ever present fear of being thrown out of the party of life—just for dancing with a limp!". Thirteen/Eight is based on a research project that has resulted in three pieces in which Mohsen Namjoo has fused the Iranian modes of Shour, Chargah, and Ras-Panjgah with jazz.

Two other tracks titled "Khat Bekesh" and "13/8" have been inspired by music from Frank Sinatra and Stravinsky respectively, and instrumentally are based on the Segah mode, but on the Isfahan mode for the vocals. Both of these musical renditions are based on poetry by Mohsen Namjoo that gives voice to the futility of the Iranian people's hope in a "savior" who will one day return and restore a free homeland to them. Through his innovative blending of literature and sonic effects, Namjoo challenges those ethereal hopes, in his view as tragic as they are comic. The second component of "Thirteen/Eight" is a solo performance where the setar accompanies vocal performances inspired by songs from the various ethnic groups that make up Iran.

"Thirteen/Eight" is a unique performance that contrasts certain traditions in Western with those of Eastern, and in particular Iranian music. It dwells deep inside these traditions, searching for enlightenment on the possibility and plausibility of hope.

Payam Entertainment is proud to present "Thirteen/Eight" in Berkeley on April 28 and Los Angeles on May 20. A musical tour-de-force by a singular voice from Iran.

Tickets for "Thirteen/Eight" BERKELEY are available at tickets.berkeley.edu and for LOS ANGELES are available at www.ticketmaster.com.