HATCH a Better World - October 6 - 8 Bozeman, MT
HATCH a Better World - October 6 - 8 Bozeman, MT
Event Date:
10/06/2011 - 9:16am
-
10/08/2011 - 9:00pm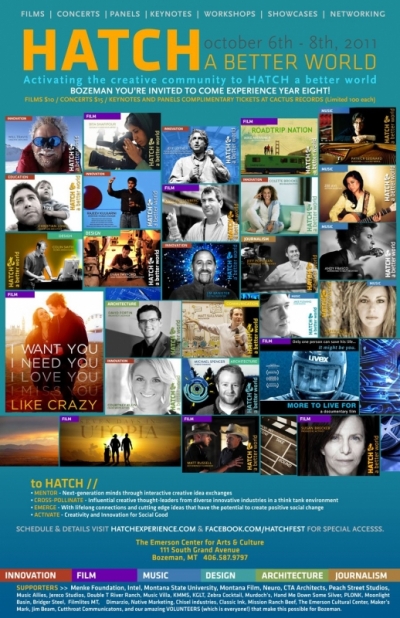 Global Thought Leaders bring their presentations, films, music, design, education and inspiration to HATCH Oct 6-8th to Bozeman MT - Come enjoy the panels, keynotes and one-of-a-kind networking! — with Christian Long, Grant Gilmore, William Travis, Jeffrey Conger, Jason Wickens, Valerie Limberg, Jesse Barney, Aaron Howard, Bita Shafipour, Evan Twyford, Alan Poole, Kietra Nelson, Rajeev Kulkarni, Courtney Klein Johnson, David Fortin, Scott Billadeau, Jim Banister, Jeff Leitner, John Woldenberg, Matt Sullivan, Matt Russell, Michael Spencer, Jeremiah Lake, Carlos Gonzalez, Brett Cline, Frank Bell, Colette Brooks, Billy Costigan, Jeff Pohlman, Mike Marriner, Jeremiah Slovarp, Jake Fleming, Doc Wiley, John Montoya, Danny Schotthoefer, Phil Newman, Susan Neustadt Brecker, Mandy Messman, Sean O'Connell, Andy Frasco and Amber Tisue.
WHAT IS HATCH
HATCH is a biannual four-day experience that energizes creative professionals and thought leaders who are serious about transforming their ideas and talents into bold action, while inspiring others to do the same.
While HATCH invites the mentors and groundbreaking artists, anyone with a creative spirit can participate. Tens of thousands have attended previous HATCH events, and with hundreds of thousands visiting our website.
During HATCH, local studios, galleries, theaters, concert halls, and other select locations throughout downtown Asheville and Bozeman become HATCH venues that host experiential exhibits, panels, workshops, and networking events. The energy of HATCH surrounds and engages you.
HATCH is unique because attendees and sponsors are part of the creative process. Everyone has intimate access to influential industry professionals across a range of creative disciplines.
HATCH 2011 will bring over 70 top professionals from seven creative fields to Asheville and Bozeman to act as mentors. Past mentors have included Jeff Bridges (film), Jackson Browne (music), Eliza Jimenez (fashion), Jeff Pohlman (journalism), Jeff Whetstone (photography), David Riz (architecture), and Manuel Lima (design & technology).
The magic of HATCH comes to life when cross-disciplinary explorations lead to exposure within the creative community, expansion of ideas & actions, and evolution of creative visions.
HATCH is actively engaged in fulfilling the following core initiatives:
Spotlighting innovators and solutions for better living.
Creating a potent network of thought leaders who can affect change
Discussing how emerging technologies are affecting our planet
Increasing academic innovation through furthering school/community collaborations
There are two international HATCH Experiences each year:
ASHEVILLE, NC // APRIL 14 – 17
BOZEMAN, MT // OCT 5 – 9 2011