Sussan Deyhim & Guest Musicians at the Grand Performances
Sussan Deyhim & Guest Musicians at the Grand Performances
Event Date:
08/13/2011 -

8:00pm

-

11:00pm
"Sussan Deyhim is a fascinating original voice in music and the arts. Her rich and complex vocals are warm, beautifully sung, and always surprising." - Bobby McFerrin.
Internationally renowned Iranian vocalist and composer Sussan Deyhim's passionate sonic and vocal language is informed by traditional Farsi, Arabic, other Middle Eastern sounds and western styles.
Featuring All Start:
Richard Horowitz: Ney, Keys, Compositions, Will Calhoun: Drums, Perscussion, Mithc Forman: Piano, Arrangements, Erik Klerks: Bass, Guitar, Saz
Sohrab Pournazeri (from the Shams Ensemble): Tanbour, Kamanche, Vocals
Greg Ellis: Percussion
And Mohsen Namjoo: Vocals, Setar
This is her Grand Performances debut.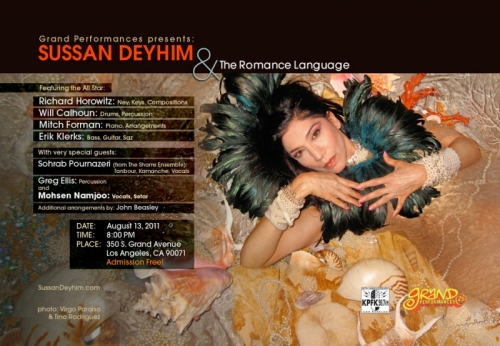 Official Media Sponsor: