Imaginary Knots A Multi-Media Performance at LACMA
Event Date:
11/24/2009 -

7:00pm

-

10:00pm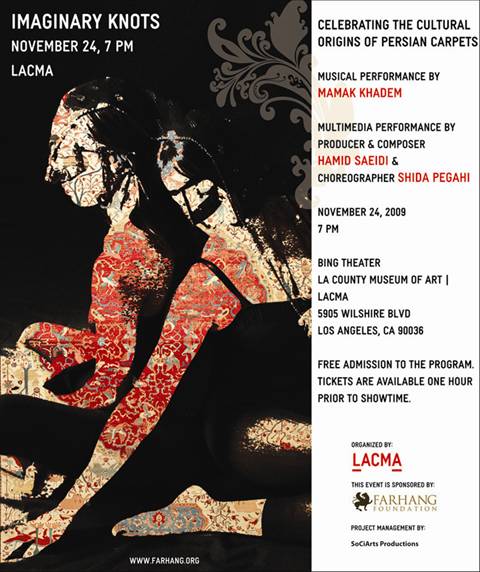 Imaginary Knots
Celebrating the cultural origins of Persian Carpets with Hamid Saeidi, Shida Pegahi and Mamak Khadem.

Three of Iran's most creative and innovative artists present an evening celebrating their rich Persian heritage and the cultural roots they draw upon – a classical tradition as timeless and as beautiful as the Ardabil and Coronation Carpets in LACMA's special installation Tale of Two Persian Carpets: The Ardabil and Coronation Carpets (November 14 – January 18, 2010).
Imaginary Knots a Collaborative production by Hamid Saeidi and Shida Pegahi
Producer - Composer Hamid Saeidi & Choreographer Shida Pegahi present the premier of Imaginary knots, a multimedia production exploring the cultural origins of Persian Carpets. Like an intricate silk carpet, this multimedia project weaves live music, dance and video art as it explores aspects of Persian culture.
Green Volume by Mamak Khadem Ensemble
Singer Mamak Khadem seeks to explore the intersections of Eastern and Western musical traditions. By collaborating with traditional performers from Iran as well as world-aware instrumentalists from the West, Mamak hopes to inspire people from around the world, particularly the young, to contemplate, observe, and celebrate the value of Persian heritage.

Organized By: LACMA
This event is sponsored by the Farhang Foundation
Project Management by Bita Shafipour (SoCiArts Productions)
Short Film Director and DP Afshin Javadi
Dancers: Shida Pegahi, Doriss Martel, Wiley Naman Strasser
Musicians: Greg Ellis (Percussion)- Hamid Saeidi (Santoor)
Video Performer: Sheila Vand
Video Editor: Alborz Kamalizad
Video Musicians: Reza Abaee(Geichak)- Mehran Khalili(Electric Guitar)
Lighting Designer: Sohail Najafi
Costume Designer: Karyn Wagner
Set Designer: Marika Stephens
Painting on Fabric: Farbod Sadjadi
Graphic Designer: Arash Kolahi
Los Angeles County Museum of Art | LACMA
5905 Wilshire Blvd.
Los Angeles, CA 90036
Special thanks to the following for their generous contributions to this event:
Mr Ephrahim; GUITY INTERNATIONAL
Mr. Helmi; DAMOKA
Imaginary Knots is an event as part of A Tale of Two Persian Carpets: The Ardabil and Coronation Carpets:
Dating to the first half of the 16th century, LACMA's two spectacular Persian carpets, both the gift of J. Paul Getty, have only rarely been exhibited due in part to their size and their sensitivity to light. Now, for the first time, these large and sumptuous carpets will be shown together, affording visitors the opportunity to see two of the world's most renowned Persian carpets and to learn something of their fascinating history before and after they left Iran.
November 14, 2009 – January 18, 2010.
Visit www.lacma.org for more information.